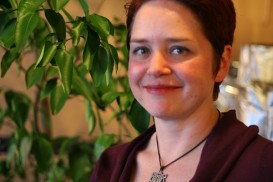 From Heather Kniess, President of the "Shiny Happies":
I started Shiny Happy Cleaners in the spring of 2007 after moving back home to Pittsburgh to be closer to my family. I had been living in Washington, D.C. for nearly a decade, working as a political researcher, and had used a green cleaning company to care for my home. To my surprise there weren't any professional green cleaning companies in Pittsburgh in 2007. I had been using eco-friendly cleaning products since I first learned about them when I attended Hampshire College in the mid-90s. The timing was serendipitous– I was ready for a career change and had caught the start-up, DIY entrepreneurial bug.
Starting simply with a tray of green cleaning products, a vacuum, and a mop I founded Shiny Happy Cleaners and in 10 years it has expanded into a company of 8 people that cleans 45 homes a week– and is still growing!  One of my very first clients started referring to us as the "Shiny Happies" and we love it.
All of the Shiny Happies are committed to cleaning in an environmentally-friendly, non-toxic way, and over the years I have attracted and hired employees who share the same ideals and principles– we all care about green cleaning as well as caring for our clients and their homes. We are here to make your lives easier, less stressful, and help you give yourself the gift of free time.
We aren't just a cleaning company, we are a community of caring people who are committed to ethical, eco-friendly practices. Additionally, everyone at Shiny Happy is a bonafide animal lover (of all kinds!) and over the years we have gotten to know and love a lot of our clients's animal family members– cats, dogs, birds, snakes, rats, chickens, hamsters, gerbils, rabbits, and so on.
I have been extraordinarily lucky to have an amazing, dedicated General Manager, Renee Hagens, who helps me run the company and has been a Shiny Happy since 2010.